Fulfil your hair desires with the targeted solutions to your hair needs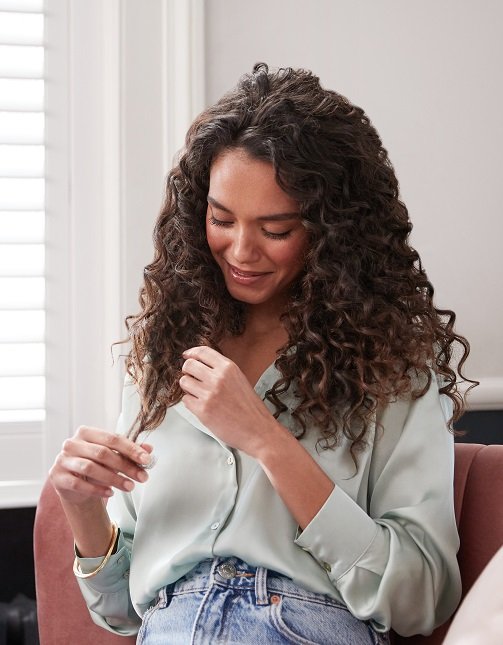 To take good care of your hair, it's essential to first identify its needs. Can you differentiate a lack of hydration from a lack of nutrition? Does your scalp tend to get dry, or oily? What pigments does your colour need to correct undesired tones? To answer these questions, follow the pro tips below:
If your hair is dull, "foamy" or prone to static electricity; it might be a sign of hair dehydration.
Wind, cold, sun or wearing a helmet or scarf can be the main culprits. To restore softness and shine, try to incorporate natural hydrating agents such as Aloe Vera to your haircare routine.
Starring: The hydrating ritual with aloe vera.
When your hair lacks nutrition, it becomes more inclined to breakage and split ends. To prevent these, the hair fibre needs to be strengthened with nourishing formulas, enriched in natural oils. Hair straightening, colouring, bleaching or repetitive hairstyles that pull hair too tightly are common causes of hair damage. Your best ally for deep nutrition and repair : The Regenerating Ritual.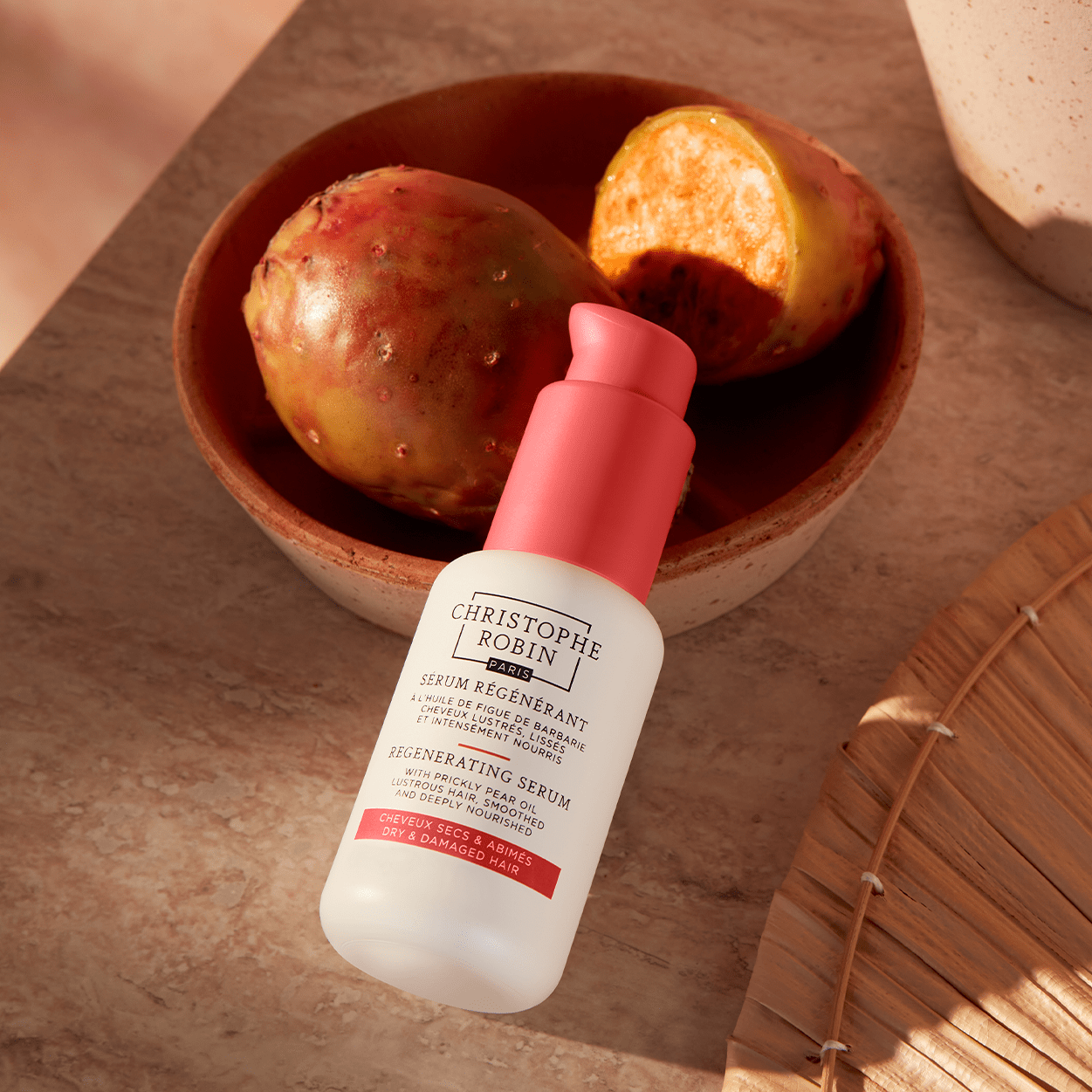 HAIR GOAL: TREAT SPLIT ENDS AND BOOST RADIANCE
Seeking sleek hair with mirror-like shine? You need the regenerating serum with prickly pear oil.
This sumptuous yet light serum restores glory to vulnerable strands, providing a lustrous shield against frizz, split ends and heat up to 230°C. Precious prickly pear oil, rich in omegas and amino acids, seals nutrition at the core, bestowing luxurious shine and a lingering fragrance. A miracle bottled, this transformative antioxidant hailing from the Middle East nourishes, hydrates and revitalises the hair fibre. Apply a few drops of the multi-purpose elixir to the mid-lengths and ends of damp or dry hair for an instant radiance boost.
Christophe Robin's three-step Regenerating ritual includes: Regenerating shampoo with prickly pear oil | Regenerating mask with prickly pear oil | Regenerating serum with prickly pear oil
HAIR GOAL: RESTORE BALANCE TO AN OILY SCALP AND SPACE OUT HAIR WASHES
Ready for a scalp detox? Reach for the cleansing purifying scrub with sea salt.
Famed for its detoxifying benefits, the exfoliating shampoo stimulates circulation and draws out impurities from pollution, product build up, or sebum excess. The cult favourite draws strength from natural sea salt to soothe discomfort, calm itchiness and gently reinvigorate, laying the foundation for healthy hair growth. Calm, purify and rebalance in one simple step, for flourishing strands from the roots.
Christophe Robin's Purifying ritual includes: Cleansing purifying scrub with sea salt | Purifying conditioner gelée with sea minerals
HAIR GOAL: PRESERVE AND INTENSIFY COLOUR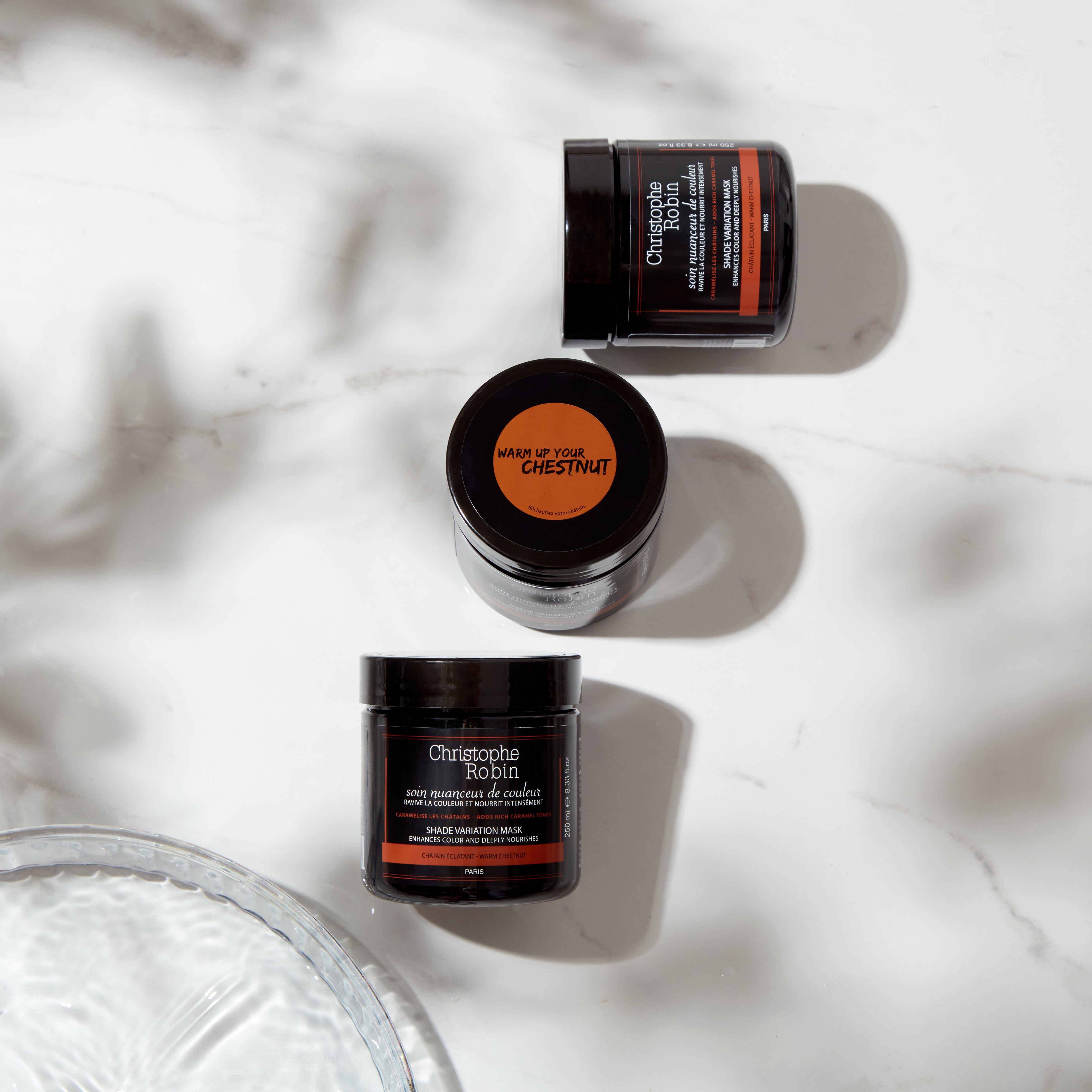 Want to bring your hair colour to life at home? Add the shade variation mask to your basket.
The nourishing treatment uses the power of contrast like a salon toner to enhance vibrancy, neutralise fading and banish unwanted tones without stripping moisture. Available in five universal shades, the award-winning mask transforms the staying power of your colour between appointments, restoring multi-dimensional depth to tired-looking tones for up to five washes. To use : wash your hair with a silicone-free shampoo, then apply the shade variation mask on damp hair. Massage the creamy formula from root to tip, leave for 5-30 minutes depending on your desired intensity, and rinse thoroughly to reveal a vibrant colour.
CORRECT
To neutralize a yellow blonde or cool down highlights that turn brassy : shade variation mask baby blonde
To restore pure tones to a brunette that turns red : shade variation mask ash brown
REVIVE
To warm up a faded blonde with honey gold tones : shade variation mask golden blonde
To restore vibrancy to a washed-out red : shade variation mask chic chopper
To bring deep, caramel tones to a dull chestnut : shade variation mask warm chestnut
For your everyday ritual, support the staying power of your hue with the Colour Shield ritual: Colour shield shampoo with camu-camu berries | Colour shield mask with camu-camu berries
HAIR GOAL: BOOST VOLUME AND BODY
Craving bouncy, full-bodied hair? Discover the cleansing volumising paste with rose extracts.
Your hair is either fine or thick, depending on two factors: hair density and hair diameter.
Thick hair will typically resist better to everyday aggression and have natural volume regardless of hair style. On the other hand, fine hair usually lacks volume and is more prone to breakage. It also tends to get oily more rapidly.
To boost fine, flat hair, the cleansing volumising paste has been formulated with a miracle ingredient: Rassoul. Rich in mineral salts, it plumps the hair bulb, brings strength, resistance and volume to fine hair. Endowed with strong cleansing powers, this clay absorbs impurities and rebalances the scalp while protecting the hair fibre.
The emulsifying clay-to-foam cleanser lifts roots instantly while plumping strands over time, for gravity-defying volume that lasts. The multiple award-winner transforms fine, flat hair from the very first use, while noticeable volume builds day after day. Massage into damp hair once or twice a week, adding water to emulsify, before rinsing thoroughly.
Christophe Robin's Volume ritual includes: Cleansing volumising paste with rose extracts | Delicate volumising shampoo with rose extracts| Delicate volumising conditioner with rose extracts | Instant volumising leave-in mist with rose water
HAIR GOAL: HYDRATE DRY, THIRSTY HAIR
Looking to quench thirsty hair with a shot of concentrated moisture? You need the hydrating melting mask with aloe vera.
The express detangling treatment infuses parched, lifeless strands with essential hydration. Aloe vera gel, famed for its emollient properties, deeply penetrates the hair fibre to soothe coarse lengths and ends frequently exposed to external aggressors. The cocktail of active molecules, minerals, amino acids and vitamins melts into dehydrated hair, smoothing cuticles, locking in moisture and improving elasticity. Massage gently into wet hair after shampooing, leave on for several minutes, then rinse thoroughly.
Christophe Robin's Hydrating ritual includes: Hydrating shampoo bar with aloe vera| Hydrating shampoo with aloe vera | Hydrating melting mask with aloe vera | Hydrating leave-in mist with aloe vera