Discover the Christophe Robin color solutions that prevent shade fade, cover greys and empower you to be the most vivid version of yourself
You've achieved your perfect hair color – but what next? Chemically-treated hair requires a helping hand to stay true and vibrant beyond a few washes, while virgin hair benefits from an added radiance boost to look its best.
If you're not able to go to your favourite salon for an appointment, now's the time to discover how to take matters into your own hands and become your own colorist. Restore multi-dimensional depth to tired-looking tones, expertly conceal greys and let your vivid hair personality shine true for longer.
SO LONG, GREYS
Are visible grey hairs scuppering your hair's full potential? Rather than reach for boxed home dyes, which can look flat and one-dimensional, discover the secret to blending greys beautifully with your authentic color so you can stay true to yourself.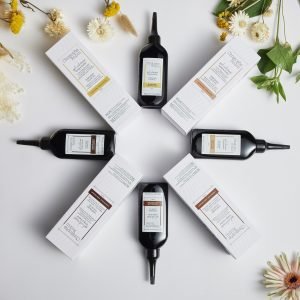 Introducing Christophe Robin's temporary color gel – a true ally for maturing hair. As opposed to waging war on greys, this clever must-have embraces them as part of your hair's inevitable journey, providing a bespoke solution to complement and maintain the color you love. Consider it a magic wand for your hairline!
The temporary color gels provide natural and subtle coverage specifically targeting grey hair with simple custom application in just 40-minutes courtesy of a handy applicator brush. Color pigments coat the hair fiber without modifying hair's structure, blending greys immediately into your base color to achieve a seamless, youthful look. Top-ups last between 5-7 shampoos, fading evenly with every wash so you no longer have to worry about unsightly roots between salon appointments.
Discover four available shades formulated to fit any hair colour: dark chestnut, light chestnut, dark blonde and golden blonde. Simply choose the color closest to your natural base and marvel as it adapts to your unique hue.
Free from ammonia, peroxide and oxidants, Christophe Robin's temporary color gels contain nourishing ingredients that don't compromise the health of your hair or irritate your scalp. Oat flakes – rich in proteins, protein, lipids and amino acids – protect and nurture the scalp, while extract of Inula flower preserves and brightens color, regenerating the hair fiber by stimulating the production of keratin.
A SIMPLE TECHNIQUE
Get ready to transform your greying hair in just a few simple steps:
Wash with a silicone-free shampoo, but do not use conditioner
Apply the Temporary color gel to towel-dried hair as desired. Use the applicator brush to specifically target grey strands, or massage in evenly using the gloves provided for more widespread coverage
Leave to develop for 40 minutes, before adding a small amount of water and massaging to emulsify and help remove excess product
Rinse thoroughly until the water runs clear, but do not shampoo